The office now has a trellis pattern painted on one wall and I need to finish putting the space together.
It will also house my "new" console table which I am going to skirt with fabric to hide our desktop computer and printer underneath.
I
am using a white dining table as my workspace, which will be placed in the center of the room (you can barely see it under all the clutter in this picture, but it has since been cleared off).
Here are some of my ideas for fabric and light fixtures.
$79 from ZGallerie
$82.99 from Overstock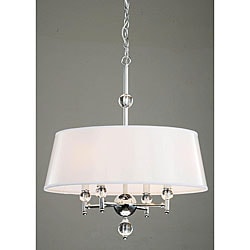 $106 from Overstock