I have made SOME progress on the Master Bedroom. I really do mean SOME, because right now I am just working with what I've got. I have much bigger plans to change the space and make it much more relaxing with new prints and patterns. From what I started with, it has already made a pretty big transformation...
And then it made it to this...
You can still see the ugly oak trim everywhere and the very poor decision I made with the "mirrored headboard". Sometimes, it just doesn't work and this was one of those times!
After a lot of priming, painting, and spackling, I now have this space...
The white trim helps a lot, but it still needs some serious work. I have big plans for this space, but it just comes down to how much money I have to work with so it will come together slowly.
I cannot get this fabric out of my mind and I am determined to use it for drapes, but even when it is 50% off at Joanns, it is still $24.99/yard. I would need 6 yards for the drapes and then I would have to make them...I think I'll wait for them to go on clearance!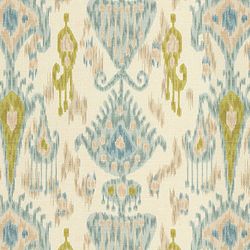 This coloring is a little off, the background is more white than that, here is a better picture of some pillows made out of this fabric.
It would be just beautiful. I recently started to contemplate whether I might like to buy store bought drapes (solid color) and then add a panel of this fabric to the top, bottom, both, edges, just somewhere. That would save me some money, but I don't know if I want to go cheap on these. I love this fabric so much I want to use as much as I can.
Another problem I have encountered is the bedding for this space. I know most people would go with a crisp white or neutral bedding, but with two giant dogs who sleep on the bed, one white and one black, I just don't know how practical that is.
Here are some that I like (some practical, some not).
I hope to make some more progress on this room soon. It kills me to sleep in an unfinished space every night:(